Fisting is considered one of the most extreme kinks in the BDSM world. Fitting someone's hand and arm in your ass is no easy task. Not only that but it takes a significant amount of communication and trust between partners. Lack of trust and communication often results in disappointment and a painful session. And, if the fisting top gets careless he can seriously injure the bottom requiring an emergency trip to the hospital for surgery. If the carelessness is extreme, the results could be fatal. It's important here to note that serious injury is by far the exception rather than the rule and usually occurs when excessive alcohol or drugs are involved.
Many people want to know then why anyone would want to be fisted. The simple answer is that it feels incredibly awesome. In some fisting sessions the bottom will be stimulated by the top in such a way that the bottom will experience what can best be described as a body orgasm, or "bodygasm." The bodygasm is hard to explain. For me I can describe it as a short circuit that sends my body into spasms releasing all kinds of wonderful sensations for several seconds lasting longer than a typical sexual orgasm. If I were able to medically test the event I'd bet you'd also find a good release of endorphins. Another way I might explain it would be to imagine what you would feel like if you wre sucking dick, getting fucked, getting head and everyone all came at the same time, but the energy experienced from averyone invloved would be yours alone.
If you're really interested in fisting and want those incredible sensations but you're afraid it might hurt, all I can say is get over it. It doesn't have to hurt and if it does it's because you're doing something wrong.
Getting started is rarely as easy as asking someone to stretch your hole and fist you. Most people I know of work weeks, months and sometimes years at stretching their hole so it will open wide and deep enough to take a fist. It's all relevant though; how wide you can open up, how relaxed you can get, how experienced your top is (or isn't), how big your top's hands and wrists are, etc.
Everyone is different, but most everyone I know of has started with toy play. I've only met 2 newbies that could take my hand on their first try. I have small collapsible hands and they were already serious butt players. Before you can expect anyone to be able to fist you, you should be able to take a toy up your butt that is at least 3 to 3.5 inches in diameter (across) and 6 to 8 inches tall. This is just a ballpark figure. If the only top you have available to you has large hands, you need to work up to a larger toy unless he has lots of patience and you both have a lot of time.
There are two aspects to work, depth and width. Which you start with is a personal preference, but since I like the awesome sensations of someone going deep in me, I started with depth. Here's how I did it…
I started with a long thin toy that was about 2″ in diameter and about 12″ long. I once sat on a dick that long and was surprised as hell that I could take it, so I thought I could take this toy all the way but became frustrated when I couldn't. I stuck it in and it went about 6-7 inches in and then stopped. It hurt when I tried to push further. Pain is your body's way of saying stop, so I did. In the gastrointestinal tract this is an important message because anything that hurts can put you in the hospital and perhaps kill you. So, when I felt it hurting I stopped and wondered why I couldn't take this toy when I once was able to take a cock that big. Some anatomical research revealed m0st people's rectum goes straight in for a few inches and then make some turns like an "S" shape. I also learned that while most people are very similar, some anatomies differ. The "S" shape curve may be nonexistent for some, while exaggerated for others.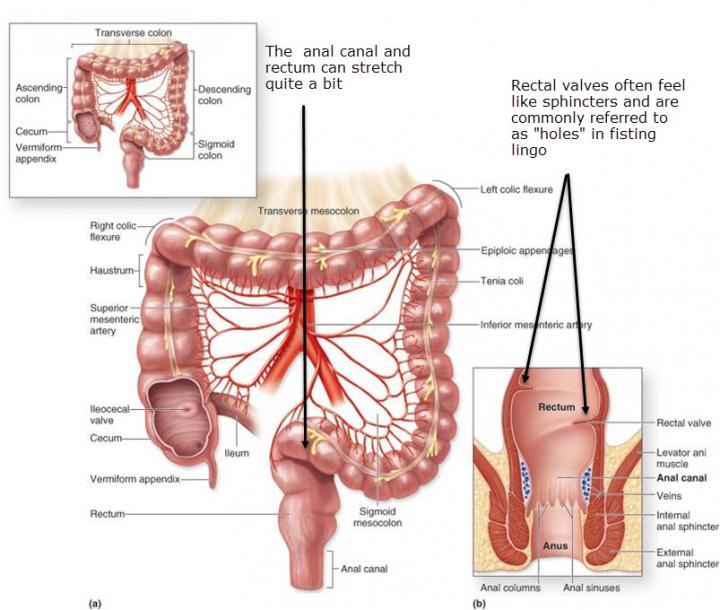 Taking my new information back to the play room, I put my toy in my hole and this time tried moving it around pointing it forward, backward, side to side, etc. I found that if I pointed it backward towards my spine I could get it in deeper, but then it would stop and become painful again. In my research I learned the "S" curve was a series of muscles that behaved like valves or sphincters; that they could and would open up, but had to be trained and coaxed to let me past them. I added some baking grease to my hole to lubricate my path. Crisco worked well for this and soon understood why it's the fister's preferred lube. I reinserted the dildo and took it to where I started to hurt the last time. Being very patient I slowly pushed. As long as it didn't hurt I continued to apply pressure. It was very slow going, but as I did so I felt some give. Eventually this became tender so I stopped. To be sure I was going the right way I pushed my toy in different directions and found doing so was resistant and a lot more sensitive and painful. I stopped playing with my toy that evening and waited until the next day and tried again. I repeated this 3 or 4 nights and I was able to finally get through. Many guys refer to this as your second hole. The feeling was awesome and I wanted more. I would continue to play with it for some time.
As I played with my hole I discovered it didn't always want to cooperate. Some nights it just wouldn't open for me. Other nights it was wide open as a hallway door. After a while I realized that it seemed to be temperamental after a lot of play. I figured it was mad at me, irritated, so I'd leave it alone for a while.
It was a sensitive area and I always treated it with respect. Whenever I felt pain, I would back off. If the pain was persistent, I'd call it a night and wait longer for it to heal. After a few weeks my second hole had become accustomed to the prodding and began letting me through with greater ease. Once I was able to get through comfortably with ease I started probing deeper and deeper and wondered just how far I could go. I bought a longer toy and one that was slightly fatter. The journey was amazing; the sensations none that I'd ever experienced. I kept going and to my amazement I took 13 inches of it before hitting another tender spot. From what tops have described to me it's like another sphincter, a tight band of some sort and is very small. Without X-rays I can't tell you where it is exactly. It seems very high up and I first thought it was the curve bending over the traverse colon, but I played with a physician a few times and he's told me I'm not even close. He says it's the curve going into the sigmoid colon. I questioned him on that because I had him half way to the elbow. He said the rectum can stretch a long way and with a lot of play that it can be stretched a lot.
Since then I have tried to get through that ring and recently guys are able to get through but only to be challenged by a curve that wants to point downward…in the wrong direction. I've been working on straightening it out and opening it a bit with some long, thin flexible toys called colon snakes. They look pretty much as the name implies. I'm making progress, but it is very slow and deliberate. I'm very cautious and I don't push anything. So far though, I've been able to get some pretty decent depth. My goal is to be able to take most men to mid-bicep. I'm getting close. I can now take the average size guy to the tip of their elbow.
I don't know where I'd be without toys. I live in a large metro area, but it's difficult to find someone to work with on a frequent and regular basis. With toys, I can work my hole as long and as often as I want. When I started out I played 4-5 times a week until I could take an arm to mid wrist. Now days, because I put so much time into my websites I only play 2-3 times a week working on straightening out my curve into the Sigmoid Colon. When guys ask me if I'll working on stretching their hole so they can fist I tell them I won't until they can take a toy about 3 inches across. I often get push-back; the common complaint being they don't like to play with toys. Well, I didn't either until I found a way to make toy play safe, fun and easy. In one of my future articles, I'll go into the different materials toys are made of and which ones to stay away from. Subsequent articles will tell you how to make toy play enjoyable, how to use toys to stretch your hole and clean up and care of your toys.