The Mr Hankey Seahorse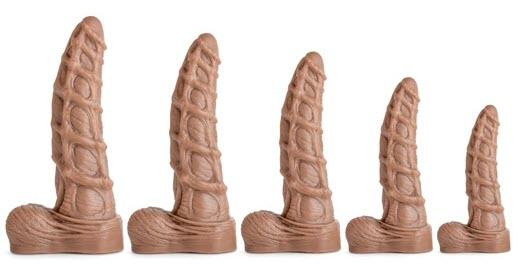 Mr Hankey's Store Description
Hop on the Seahorse and let him take you to new depths! This toy comes in five popular sizes, the small for the ladies or those who are relatively new to anal play using larger toys, the medium for those who are semi-experienced, the large for the relatively seasoned player, the XXL for those who are trying to reach new levels and the monstrous XXXL for only the most experienced pig. The Seahorse is beautifully sculpted with very intricate detail, this toy is a work of art! If you like to feel every inch of penetration, then this toy is for you! This toy is for those who do not necessarily want a smooth surface but prefer bumps, ridges, ribs and humps -this toy has them all. You will feel this toy "pop" through your sphincter every inch of the way. With a tapered head, this toy can go deep and is excellent for depth and width play.
My Take
I bought the Seahorse XXXL because I'm a size queen when it comes to my toys. I also bought it because it looked awesome, looked so different from all the other toys I've played with and thought it would add a whole new experience to my toy play. It was a must have!
When I took it out of the box I was impressed by its size. At first, I thought there's no way I'm getting this thing up my butt. Then I started squeezing it and was pleasantly surprised with how much give there was. Then I thought just maybe I would be able to.
Now it was time try this beast out and take it for a ride. I knew J-lube was not going to do the trick to lube this toy up, but I used my lube injector and put some deep in my hole anyway. Then I took my other injector and put some Crisco in my but. Finally, I took a good amount of Crisco and lubed the toy everywhere. There are a lot of nooks and crannies to lube up so expect on taking a little bit of time to do this. You want to do a good job because the surface of the toy is not smooth. It's textured like skin, but not smooth and pliable as the real deal.
I placed the Seahorse on my toy stand and tried to mount it. I'm a short guy at just barely 5' 8'' and found I needed a little help getting high enough to fit the head in my hole. With a little practice I no longer needed to hike myself up on top of it. Once it gets in me it wants to climb right up inside me sliding in at about 4-6 inches. Taller men probably won't experience this. I could definitely feel the roughness of the texture, so I went slow. To keep the shaft lubricated I did a little in and out action to prevent the lube that was already in me from being pushed up to the top of my path.
I could feel every ridge of that toy as a rocked my way down , which was awesome. The soft squishy body allowed me to put a lot more in than I thought I could. With a little forward motion and some help with my hand I was able to angle just right allowing it to slip through another hole. I thought I was in heaven. That didn't last long though as that squishy body started to expand. It was a rough ride, but I like that. I play and stretch with several toys but save the Seahorse for last because after 4-6 squats on it my hole is done.
So how would I rate it? I give it a 4 on a scale of 1-5. The only reason I give it a 4 is that the texture is rough. When it gets tight in there it creates too much friction for me. Now, If I was a bigger guy and like the rough ride, I'd give it a 5.
All in all, it's become one of my favorite toys.
Picture Gallery